Frost!
Friday, May 4, 2007
« 2008 | 2007
Current News »
Events »
Nature is our workshop. This saying proved itself again this year though it usually comes to ones awarenes only when not soo good things happen. Now it struck our vineyards. Following the amazing weather in early spring that lead to great growth, our grapes have now been bit by early May frost.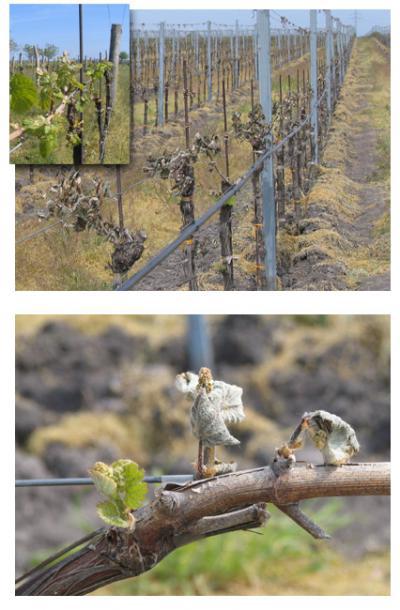 Before the vines start to grow they can stand quite low temperatures of -15° C (5 F) and to some extent even lower. Young shoots and blossoms are on the other hand especially prone to even the slightest frost which damages them heavily. Unfortunately it has cooled down sharply in the first moonlit nights of May and in some places we had temperatures below the freezing point. So there we had the damage, many young vines with their budding flowers were destroyed or at least badly hurt. A comparison of the two images above shows a vineyard one week before the frost and on the day after - not a beautiful sight.
Luckily not all of our vineyards were in the affected area but for the vineyards that were this means that all shoots, leafes and grapes that have grown in the current year are dead. But not everything is damaged. Even in the strongly affected areas some shoots and flowers have survived just like the second image shows. We will see how the year develops further on but let´s hope that we won´t see any more frost until at least November or so.
Page Top »