The origin of our wines
Gols is a preferred spot for winemaking. Here in the Burgenland, on the eastern shore of Lake Neusiedl with its National Park lies the Seewinkel, the westernmost spur of the Hungarian lowlands. North of it stretches a large ice-age gravel terrace left behind by the Danube, the Parndorfer Platte. On the gentle slope of this plate towards Lake Neusiedl and in the plain in front of it stretches the old wine-growing area of Gols.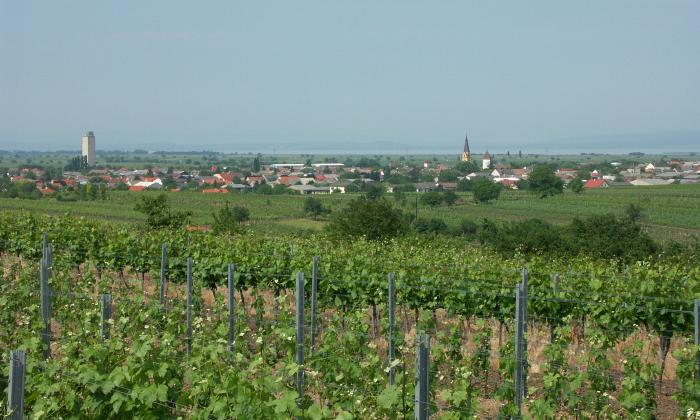 The nearby lake characterizes our climate and the extremely warm and dry conditions have been utilised for over two thousand years to grow white, red and sweet wines. Today Gols with its more than 100 wineries is especially famous for great red wines, full-bodied white wines and high quality dessert wines. However, by harvesting early, often even at night, we create every year equally light and fruity white wines in spite of climate change, which we have of course also felt for quite some time.
The soils of our region were deposited by the Danube in primeval times and as a result they often exhibit very different conditions in a small area. Roughly, however, they can be divided into two categories.
On the one hand there are the locations around the village and on the slope of the Parndorfer Platte towards Lake Neusiedl. On warm gravel and loess soils, many expressive, strong red wines like our Blauer Zweigelt or Cabernet Sauvignon thrive. But also refreshing white wines like our Welschriesling and even the Sauvignon Blanc feel very comfortable in this area.
The other category includes sites located between Gols and Lake Neusiedl, which together form the well-known Heideboden. This is the name of the strip that runs between the lake and the foothills of the Parndorfer Platte, roughly from Weiden via Gols and Mönchhof towards Halbturn. Here warm gravel soils alternate with deep, calcareous and cooler grounds. Our early-ripening red wine grapes like St. Laurent or Pinot Noir grow in cooler areas. In warmer spots, Riesling, Donauriesling and of course our Blaufränkisch thrive.

The rich diversity of soil conditions allows us to cultivate a large number of individual grape varieties on precisely the soils that best suit their needs. Of course, it takes years of experience to make the best possible use of the different types of soil in combination with the grape varieties, but it is also a prerequisite for producing excellent quality wines. Through our connection with our vineyards, the vines and our soils, which has lasted for generations, we can rely on exactly this important sense for the big picture. And you can taste that!
Page Top »