Red Wine Vintage 2006
Monday, July 30, 2007
« 2008 | 2007
Current News »
Events »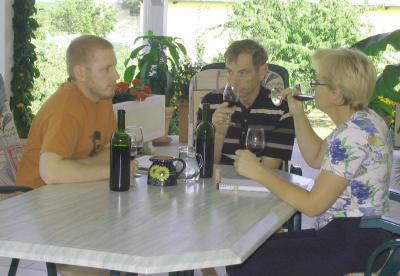 Almost one year after the last harvest it is now time to bottle the first red wines of the 2006 vintage. They had enough time to mature in their casks and are now already very enjoyable to drink. We used the hot days of the past weeks to stay in the cool cellar and bottle the first reds. First impressions prove what we already knew from prefvious tastintgs. The year 2006 turned out to be a great red wine vintage and will receive lots of attention in times to come.
We also have a new Canopus this year. Canopus is the Cuvée that we create from the best of our red wines only in excellent vintages. Thorough tastings helped us to find the best blend for the new Canopus, a combination of Cabernet Sauvignon and Blaufränkisch.
Of course we will have the new wines prepared for tasting at all of the upcoming events we will be attending. Be prepared.
Page Top »