The Current Wine Year
Wednesday, August 6, 2008
« 2009 | 2008 | 2007 »
Current News »
Events »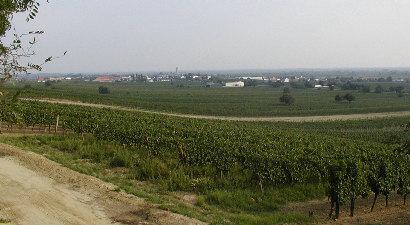 This year's growing season is quite advanced and in only a little while the harvest will start. Therefore we can now already take a look back onto this years wine season. What makes this especially interesting is that we worked accoring to the regulations for organic farming for the first full year now.
Following a favourable spring and a very promising flowering season June and July turned out very humid with an untypically high precipitation for or our area. In other years we much more likely have to deal with drought in these months. High humidity means good conditions for vine and grape diseases especially when it is very warm. We also had a strong hailstorm that damaged some of our vineyards quite severely.
Such a situation is a challenge for every organic farm. We do not use "standard" chemically-synthesized pesticides and have to utilize other methods to keep our vineyards healthy. We use natural agents that strengthen our vines and also put a lot of manual work into aerating the grape-zone by removing some leafes and grapes as well. This helps the air to pass through the vineyards, drying the grapes quicker after a rainfall. Overall this lead to much more work than in a ideal or even normal year but we of course knew this before we decided to go the organic route and we are prepared to deal with it.
All in all we mastered our first year as organic farm quite well and since it was a very demanding year we are also proud of this. Now we of course wait for the harvest, it's only a few weeks away.
Page Top »