Sorting through the vinotheque, tasting old wines
Thursday, January 28, 2010
« 2011 | 2010 | 2009 »
Current News »
Events »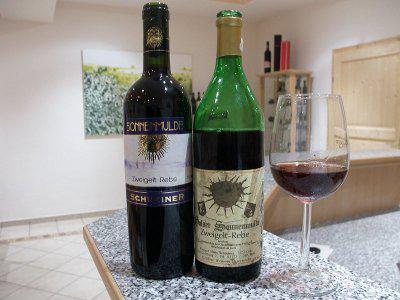 In winter when it is really cold, just like now, a wineries cellar is quite a comfy workplace. We took the opportunity to sort through and organise our vinotheque where we store bottles of the best wines from past years and decades. After collecting everything we had a small tasting of some of the old wines. A comparison of two Zweigelt Rebe, one from 2003 and one from 1985! Here is a short report.
It is only about two wines but their tasting promises to be very interesting indeed. Even if it's almost unbelievable by today's standards, the wine world, and especially the red wine producing part of it was very different in the Burgenand in 1985. The Zweigelt Rebe (called that until we dropped the "Rebe" in 2006) has always been our very light and fruity Zweigelt, letting the heaviness and ageability to the Blauer Zweigelt and the Capella on the opposite side of the scale. But back then light meant an alcohol content of about 11 %vol, only little extract and no malolactic fermentation at all. Compared to that the 2003 Zweigelt Rebe, albeit also the lightest and fruitiest Zweigelt of its vintage, offers more than 13 %vol and a much punchier fullness and extract.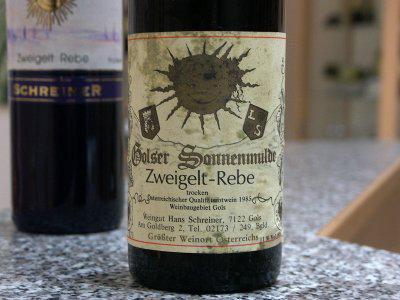 Before the tasting it's interesting to take a look at the bottles and labels. In 1985 the standard bottle size was still 700 mL instead of today's 750. The label itself has faded a bit but it is still nicely familiar. The design is of course dated but the general motif of sun and landcape has stayed the same ever since. It is actually even older than this bottle but that is a different story that maybe will be told another time. But now it's time for the tasting!
Zweigelt Rebe 2003 - Let's start with the younger of the two. This wine has been sold out for some years now and following our recommendations already mostly drank up by now. We do not intend the Zweigelt Rebe (now Zweigelt) for long ageing, for this we have the Blauer Zweigelt or even the Capella, the latter especially serving barrique lovers. Still, the extremely hot year and good vintage of 2003 lead to some higher expectations which this wine completely fullfills. Fife and a half years after bottling the wine has only lost a tiny bit of its fruitiness and boast an extremely full, tender and harmonic body. Thats the 2003! There is no sign of degradation yet and that will remain so for quite a while if the wine is properly stored. The conclusion: Excellent! If you still have some bottles, now is the time to drink them. You can if you like still keep them for a good time longer but the wine has aged enough now and probably reached its peak. It will stay ther for a bit before it starts to get old tough.
Zweigelt Rebe 1985 - Now it's getting interesting! How does the 25 year old very light and fruity Zweigelt, a typical wine of its time, perform. Like expected the cork is a bit weak already, about 1/3rd of its height is wet but it still smells fine. While pouring in a glass, the color looks bright cherry-red but alrady shows some brown colors in between. Very dark reds were of no consideration in the time of this wine and this explains its light color. And with a 25 year old wine, some brown was to be expected. The flavour is slighty nutty - a bit of oxydation but not in a bad way. The wine is definitely not spoiled, so we taste it. The first thing that comes into mind is the extreme difference between the two wines regarding their density. While the 2003 completely fills your mouth, the 1985 is rather thin on the palate but with a noticeable acidity. Like already mentioned above - malolactic fermentation wasn't performed back then and if it did happen, then only by accident. The quite hefty acidity for a red wine is not too bad in this case altough. It carries the wine and is for sure one of the main reasons for why the wine is still quite drinkable after all this time. Overall it has kept up quite well. The conclusion: The Zweigelt Rebe 1985 was never supposed to be a wine for long ageing and storing, so we should not expect tasting miracles to happen. Still it was quite interesting to taste and we have seen much worse wines that were a bit younger as well at differnt tastings here and there.
Page Top »