News 2010
« 2011 | 2010 | 2009 »
Current News »
Events »
2010-12-04 - 15:32

It took a long time this year but now winter has definitely come to gols with ice and snow and everything else. The land is covered by a thick layer of snow now and the vinyards get some rest for a while.
Read more »
2010-11-12 - 07:48

A few days after Martiniloben the hectic rush has settled. The 2010 days of open winecellars in Gols was again a great success. Thousands of people through the products of many cellars, including the Sonnenmulde Estate's of course.
Read more »
2010-08-31 - 10:05
There is something going on at the Sonnenmulde Estate Winery. After a long and thorough consideration we decided to give our wines a new look. We already gave a quick preview on this website a few days ago but here comes all the associated background information for you to enjoy. Everything about our all-new wine labels!
Read more »
2010-08-28 - 09:22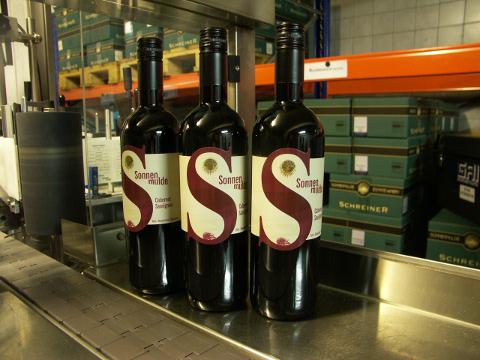 It took a long time, more than a year exactly to create our all new wine labels. Here you have a picture of the first bottles using them directly from the labelling line. There will be more and better information as well as nice photos soon but afther such a long thime we just had to post one quickly. And it should do for a first impression!
Read more »
2010-08-09 - 11:18
It's August and the only reason why you didn't hear from us for some time now ist that summertime is always extremely busy and we have lots of work to do in our vinyards. Especially in June and July we spend most of the time out in the vinyards and when there is some left we have to bottle the first red wines of the last vintage. But that's done and a great 2010 vintage is already foreseeable!
Read more »
2010-05-10 - 00:19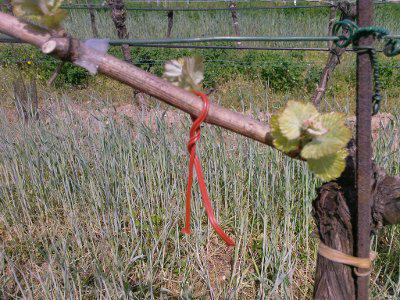 Walking through a vinyard in this time of the year it's pretty easy to spot red ribbons wound around grapevine shoots every few meters or so. What they are useful for is explained by the occurance of one of the more dangerous pests in winegrowing, the Vine Moth.
Read more »
2010-02-17 - 00:56
What does PIWI mean? PIWI is an abbreviation for the german word "pilzwiederstandsfähig" which translates into robust against fungal threats. There is a big interest in such grape cultivars mainly in organic winegrowing but also in conventional farming the attention is growing.
Read more »
2010-01-28 - 18:18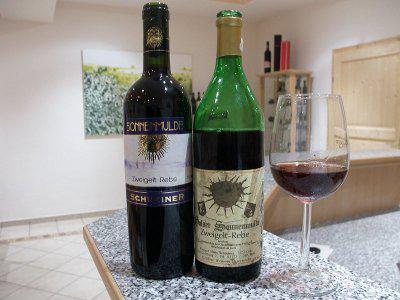 In winter when it is really cold, just like now, a wineries cellar is quite a comfy workplace. We took the opportunity to sort through and organise our vinotheque where we store bottles of the best wines from past years and decades. After collecting everything we had a small tasting of some of the old wines. A comparison of two Zweigelt Rebe, one from 2003 and one from 1985! Here is a short report.
Read more »