Threading
Wednesday, June 30, 2021
« 2022 | 2021 | 2020 »
Current News »
Events »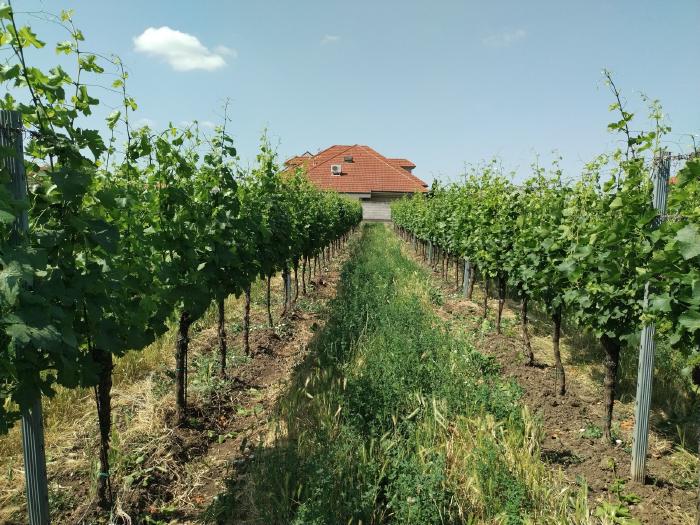 In the summer, a wide variety of leaf work has to be done in the vineyard. Weeding stem shoots, thinning leaves and grapes, trimming vines and more. Threading them into the wire trellis in is the most tedious and time-consuming work of all. It involves shaping the shoots so that they fit the desired training system and allow for good grape development.
The training system is the form in which the vines are shaped in the vineyard. The goal is always to achieve a good balance between growth, sunlight, shade, yield and quality. And because there are so many objectives here, encountering even more diverse grape varieties, soils and climates, there are a huge number of different systems that all have their justification. So there is no "best" system, only those that are more suitable in certain regions than others.
In our country we use a trellis system with a wire frame in which the vines are threaded in an upright position. The grapes hang at the bottom at about 90 to 120 cm. Above, the vines and leaves grow up to about 220 cm, a height at which they are then clipped. Due to the height and the angle of the sunlight in our latitudes, this results in row widths of about 250 to 280 cm. These are the conditions that already describe our common grapevine training system.
Here comes the threading process. The vine is a climbing plant and grows upwards on the wire by itself. However, it does not care too much about form and in the second picture you can see that it grows in all directions. In order to provide shade, ventilation, but also driving access to the row, we have to thread the vines upright in the wire. This leads to a nice growth and, even more important, a tidy, aerated grape zone in which the grapes have room to develop. The work is laborious and to this day there is no good alternative to manual labor. And so we brave the heat and do this important work. Because good and high quality fruits are definitely worth the effort for us. The result can be seen in the first picture at the top.
Below is a small video of the work in progress. Before 6 o'clock in the morning, it is also still quite pleasant outside!
Page Top »