At the harvest - Capella 2009
Friday, October 16, 2009
« 2010 | 2009 | 2008 »
Current News »
Events »
It's already one month after our last message and we can happily report that we have finished this year's wine harvest. The busy time prevented us from posting updates to the website while the harvest was going on but we can now say that it was an exceptionally good one. We will provide a short overview of how the harvest went shortly. In the meantime we present a couple of pictures of what we think was much likely one of the most exciting parts of it.
As every year we had something special planned for our Capella Zweigelt Selection. Not only do we choose the very finest and ripest Zweigelt grapes of the year to make this wine, we also treat it with a specific cold maceration technique to yield the best and most interesting aroma possbile. For this treatment the grapes are crushed and then immediatly cooled down to less than 5° C (41 F). The grape mesh is then kept at that temperature in an insulated tank for a few days before the fermentation is started and the mesh warms up again. This gives the juice time to solve lots of good aromatic substances out of the grape skins and flesh before the fermentation begins. At this very low temperature no fermentation happens and no bad microorganisms like bacteria or funghi can spoil the juice. That's the secret behind this very special treatment which we only use for our Capella Zweigelt Selection.
Preparation always comes first of course. We started by thoroughly insulating one of our red wine fermenation tanks. In it the Capella will be cooled down at first and later on fermented as well. Everyone from the family that is available helps out of course. Take a look at the pictures 1 and 2.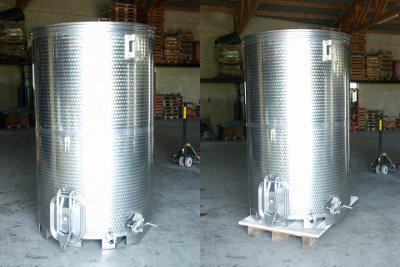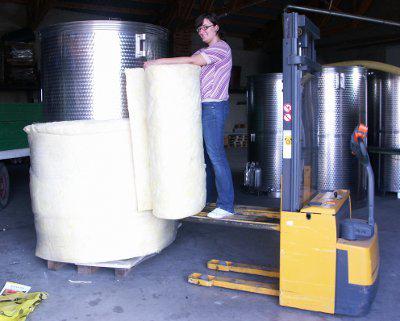 When the grapes are harvested, everything has to go quickly. For cooling we use frozen carbon dioxide, also known as dry ice that has a temperature of about -78° C (-109 F). Carbon dioxide is ideal because it is not only cold but completely dissipates as a gas when warming up. And since a lot of natural carbon dioxide is formed during any wine's fermentation as well, there is no issue with residues from the cooling process. But the best thing is, dropping big amounts of dry ice into any fluid is quite spectacular as well as a lot of fun just by itself. See pictures 3 through 5 to get an impression.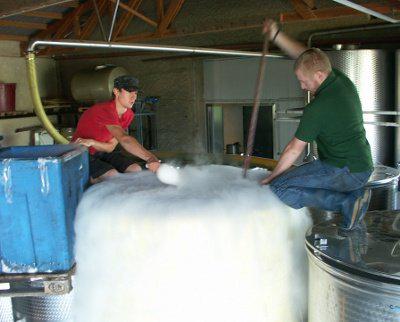 After everything is finished and the grape mesh has cooled down, the tank is sealed and the top is insulated as well. Now a couple days go by while the tank warms up only a tiny bit. Then the insulation is taken of, yeast is added and the fermentation starts just like with any other red wine. (picture 6) As for everyone who joined in the work. It is always nice to have a glass of dry-iced grape juice together. Notice, we really like the fog. (picture 7)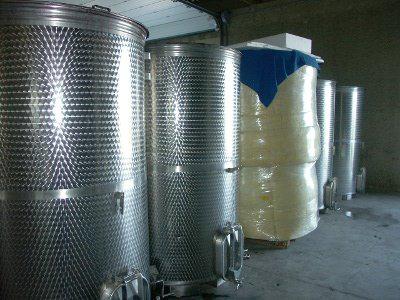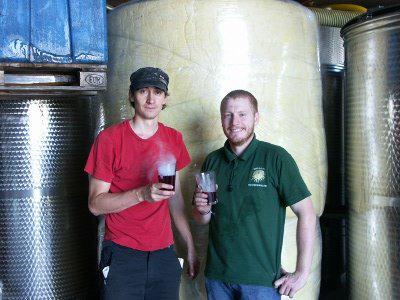 All this happened a few weeks ago. In the meantime the Capella's fermentation has finished, the grapes have been pressed and filled into small barrique casks that are now stored in our wine cellar. Currently it's undergoing malolactic fermentation which will take at least a month or so. Afterwards the Capella will be aged for a good year in it's barrique casks. Then it will be bottled just to age some additional time in the bottles before it will be available for purchase. Let's see how it turnes out. The start has been very promising and we will of course have a close eye on the Capella to see that it develops in the best possible way. In the end all comes down to one simple fact. High quality comes from the vineyard and the grapes alone, the wine can never be made better after the fact. All a winemaker can do is to make the best he can from the wine that was harvested originally. And having selected the very best Zweigelt for the Capella 2009, we expect it to develop exceptionally.
Page Top »