Harvest 2013
Thursday, September 26, 2013
« 2014 | 2013 | 2012 »
Current News »
Events »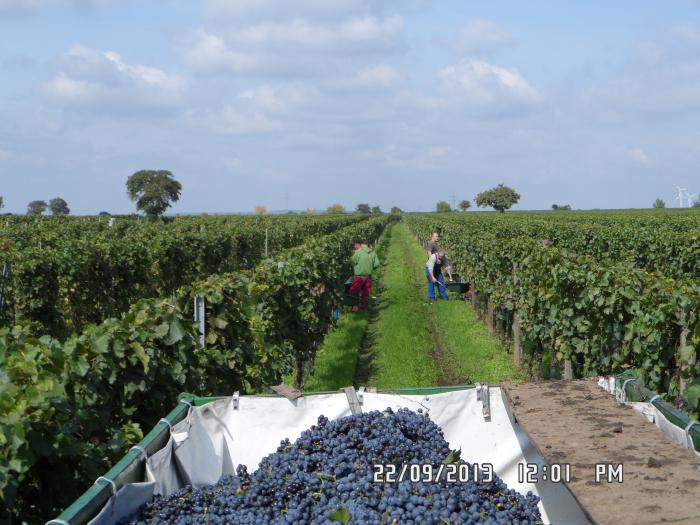 The wine harvest paces along. But this year it's nothing for the faint of heart. The extremely hot summer had our grapes take a holiday of their own. They preferred to save water instead of ripening which is acutally a really smart thing to do. But this means that we're now at least two or three weeks behind when compared to the extremely early harvest dates of the previous vintages.
Now all winemakers would like to finally harvest their grapes and waiting is tough. But complaining is pointless. Harvest time is when the grapes are fully ripe. At least that is how we think about it. Thus we took a few days break from the harvest and let the grapes that are still out in the vineyards enjoy the warm and sunny time. Tomorrow we'll start picking again and will bring in our last white grapes of the year - Riesling. Then we'll continue with Merlot and some of our Zweigelt. Cabernet Sauvignon, Blauer Zweigelt and Blaufränkisch still need their time and we're prepared to give it to them. That means another harvest-break next week.
This year one hast to be patient. All year we strive to grow good and healthy grapes, now we'd be stupid not to give them the time to fully ripen. The Adrimasch - the big party at the end of the harvest will be a bit later. But hey, isn't a great harvest worth it?
Page Top »