Exhibitions 2021
Thursday, February 18, 2021
« 2022 | 2021 | 2020 »
Current News »
Events »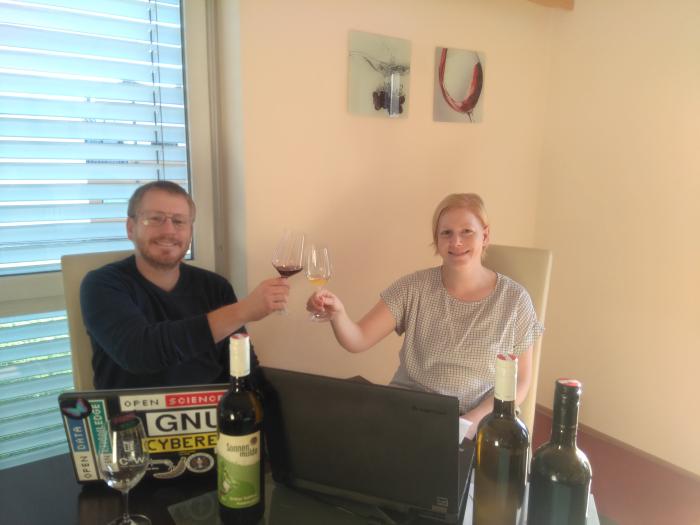 "It's getting tiring!" Everyone can probably identify with this statement by now. We are in the fortunate position of being able to do our normal work without restrictions. What's more, we can always go outside when the weather is nice, and that of course helps in a situation where we have few other people to meet. But there is one thing we do miss, and that is personal contact with our customers.
2020 was a good wine year, more details on that on the next page. Fortunately, wine cultivation and vinification is completely unaffected by the pandemic. However, the finished wine has to reach our customers to be drunk, and that is unfortunately a bit more complicated at the moment.
In winter we can plan our work in the winery very well. January to mid-April is therefore the time when we present our wines at many fairs and tastings. Some of them already fell victim to the pandemic last year, this year unfortunately all of them do. This is understandable due to the situation, but nevertheless a great pity. We are always happy to meet people who enjoy our wines. For us as a family business this is very important because it distinguishes us from "the big guys" that you can buy in all the supermarkets and many of our customers appreciate the direct contact as much as we do.
Interestingly, the situation with international trade fairs is quite different. At the moment, these take place exclusively by video conference and their efficiency is almost unheard of. You can sit comfortably at home (picture) and stay in touch with customers all over the world. Nevertheless, efficiency is not everything. Wine tasting always involves feeling, and even if it's cozy at home, it's not the same.
We are optimistic that we will finally be able to attend trade fairs again after the summer. Until then, we are happy to receive orders, even without prior tasting. After all, a good glass of wine, enjoyed at home, is a small bright spot in life, even in the current situation. The wines and the new vintage are excellent, we think you will be satisfied.
Currently, we ship most orders by parcel service. But we are also planning personal delivery tours to Western Austria. Then we will be happy to deliver the wines to you ourselves. With distance this is not a problem and at least we can wave to you from afar.
Page Top »