Young 2013 wines have arrived
Saturday, November 2, 2013
« 2014 | 2013 | 2012 »
Current News »
Events »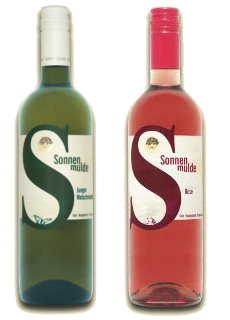 A busy month has passed since our last post and lots of new things happened. We have already crushed the last of this year's reds and thus the 2013 harvest is really over. While the reds are now gently bubbling along with malolactic fermentation, the whites are already further along.
All white wines are done fermenting. Some of them like Chardonnay and Pinot Blanc we let rest on the yeast for just a little bit longer whereas others are already racked and now ripening in their barrels.
Our young wines of the vintage have experienced an even quicker process. Having harvested them in early September they are not only fermented but also cleared, bottled and ready for tasting by now. This early bottling allows us to keep the extremely delicate fruity aromas of young wines and bring them into the bottle. Our Junge Welschriesling and Rosé alike are thus very fresh, fruity, highly aromatic and because both are not bone dry, also very pleasant to drink. We've diligently tasted ourselves and are very happy with the outcome. Just as we are with the 2013 harvest overall.
Both wines are available starting now. We've even delivered the first bottles to customers in Tirol and Vorarlberg in the last few days. Some of them should be emptied already by now. We do wish you a pleasant time with our young 2013 vintage wines.
Page Top »