Found in our Vinotheque
Tuesday, December 16, 2014
« 2015 | 2014 | 2013 »
Current News »
Events »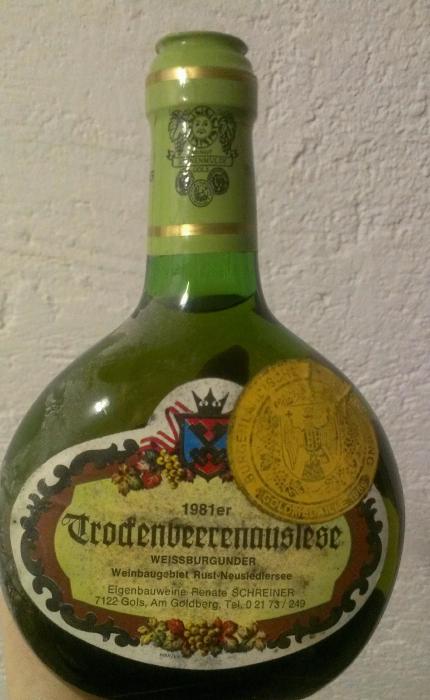 A small treasure found in our vinotheque. A 1981 vintage Trockenbeerenauslese from Pinot Blanc grapes. It's 33 years old and still an excellent drink.
This Trockenbeerenauslese (TBA) has always been an exceptional wine, winning a gold medal at the Burgenland wine competition in its time. Now, 33 years later it still is an amazingly refined dessert wine. While very concentrated dessert wines like Trockenbeerenauslese or Icewine are always the best candidates for an extremely long ageing capability, this 1981 vintage does not even show its age. The wine is still lightly coloured and very fruity. Its sweetness is has been so well integrated over time, that one almost cannot tell its actual high sugar content. Amazing!
This is not only still an exceptional wine, it is also a great fit to sweet desserts after a fine meal.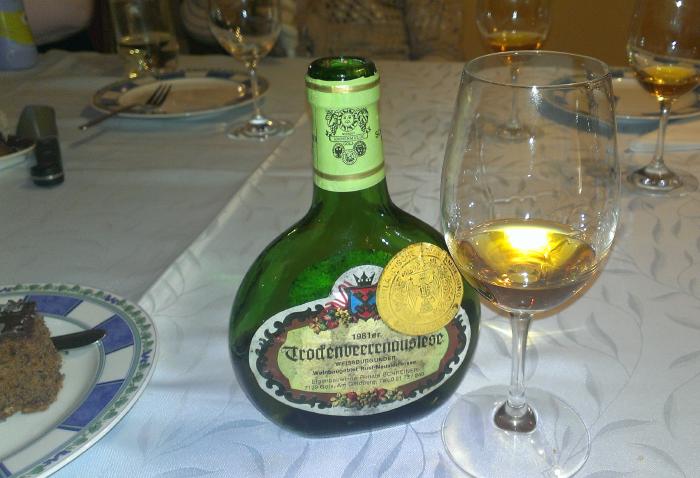 Remarkable how little information was present on 1981's labels. Vintage, Grape and the Winery, that's it. It does not even state the alcohol content, times have changed indeed. Also interesting is the "Bocksbeutel" bottle. Back then we used these bottles for most of our dessert wines. Nowadays such bottles are really uncommon in our area, making this old one even more special.
Page Top »