Trockenbeerenauslese 2020
Saturday, December 5, 2020
« 2021 | 2020 | 2019 »
Current News »
Events »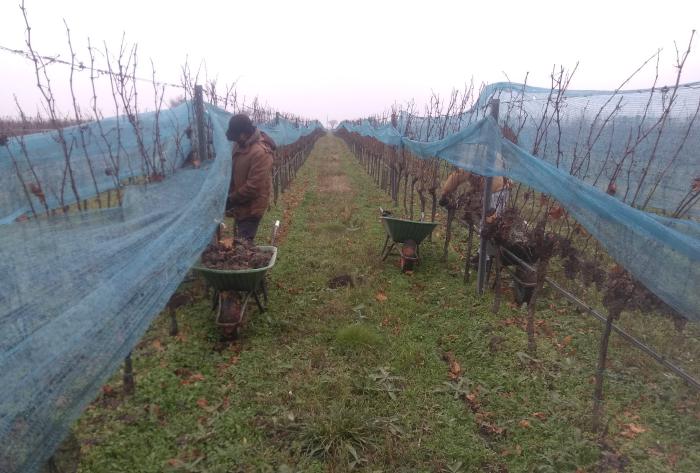 This year's grape harvest started a little later, and took even longer. However, there is a good reason for this. Just in time before the first snow, we were able to harvest a Trockenbeerenauslese from Sämling grapes. We are happy and celebrate the end of a good wine year 2020.
For sweet dessert wines we always have to wait a little longer. Slowly the botrytis fungus, called noble rot, starts to affect the grapes and they can dry out more and more. Ideal are days that begin cool and foggy, but become really warm and sunny at noon. The area around Lake Neusiedl is rightly famous as one of the world's best wine-growing regions for this noble sweet wine style, even if not all years are as good as this past vintage.
We left a part of our Sämling grapes hanging during the harvest. In the picture you can see the nets we used to protect them from the birds. Otherwise nothing would be left of the sweet grapes and that would be a pity. Of course we harvested by hand, with wind and temperatures just above freezing point. But with the end of the harvest and a "TBA" in sight, it was quite bearable.
Meanwhile the juice is slowly fermenting. With such concentrated musts this can take up to a few months. But that doesn't matter, for a TBA we like to take our time. After all, you can enjoy the finished wine for decades.
Page Top »